Who doesn't enjoy a good cup of tea in the morning, when you can get your day off to a good start with a refreshing cup of hot tea?  Tea is a popular beverage around the world. But what is afternoon tea?
The phrase "time for tea" is often used to denote the time of day when a person has finished their lunch or their main meal and is considering having a cup of tea.  The phrase can be interpreted to mean that it is time for the person in question to have a break from work or from any other activities they might be engaged in and relax with some food or drink. The phrase can also be interpreted as an invitation for another person to join them for tea or coffee at this time.
A good cup of tea is an afternoon delight. All you need is a pot of boiling water and a few minutes to steep the leaves.
Afternoon tea is a social event, especially with friends or visitors, that usually takes place in the late afternoon and consists of tea, sandwiches petit fours and cakes. Some people have this as a light meal or as a snack before dinner. The event can also be hosted by an individual or at a hotel, restaurant, or other location where people are invited to gather for conversation over food and drink.
Afternoon tea was initially introduced in Britain over 200 years ago. The British tradition is to have tea and snacks, like cakes and sandwiches, in the late afternoon.  In some countries, such as India, people have a cup of tea with their lunch or dinner. In addition to that they also have snacks like samosas or pakoras.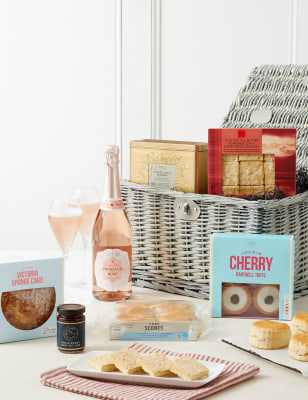 Do you fancy having a little tea in Mayfair in May? Well we have a competition just for you then with the chance to win a Tea in Mayfair hamper from M&S.
There are plenty of ways to enter, simply scroll down to the Rafflecopter widget below to see the options. You will also see the terms and conditions below as well as all of the blogs taking part – please do take a moment to visit them to show your support to them.
Bloggers Taking Part
Here is a list of all of the bloggers taking part in this giveaway – please show your support by visiting them.
Real Girls Wobble | Lifestyle Original | Swift Earning | Sahara Vibes | Fi Luv | Our Life Interrupted | Skylark Virtual Services | Crystal and Yarn | Houston Marcha | Valid Articles | Introverted Travel | Lifestyle Saving Techniques | Manifest with Loa | Project Poppet | Best 4 Mum | Toothbrush Packed | Celtic Tigress | Garden Teacakes and Me | Mum's Guide to Life | Birds and Lilies | Sand and Sunshine | Notes From a Kitchen | Maternity Money | The Everyday Domestic | Clutter Free Katie | Sit and Take in the View | Live Well Way | Not Got a Clue | Fun Free and Frugal | Shake a Cocktail | Great Yoga Tips | Money Saving Tips 4 U | Rocfo | My Boy With Autism | All Sorts of Jazz | Live Life Love | The Money Raven | Live Life Love Travel | Have a Fab Day | Mrs Money Pot | Wake Up It's Monday | The Making of Mummy | Clean Beauty Loves | Lydony | Weddings by Westy | Bitten Food | Infant Blog | Several Ways To | Christmas Ahoy | Better Best You | Money Matters | Karen Appleyard | Your Property Your Life | Gin and Gemini | Discount Days Out | Bujo Heaven | Good Resumes | Oceans of Gold | Master Money Multiplier | Mums the Wurd | The Life of Adventure | Nishiv | Big Boys Cry | Sporf | Accounting Page | The Finance Fetter | Doing the Impcosible | The Katie Wright Life | The Elements of Blogging | Life With More Sparkle | Balance the Budget | Money Money Money Online | Guide to World Travel | Guide to Health and Fitness | Madam Blunt | Mortgages After 60 | The Thrifty Princess | Bark and Bites | Mudpies and Rainbows | The Parenting Insider | Side Hustle Q&A | Thrifty Husband | A Thrifty Gamer | Youth n Trends | Body Potency | London Fridge |
The Prize
This prize is a M&S Tea in Mayfair Hamper
Terms and conditions
1. There is one top prize of a M&S Tea in Mayfair Hamper
2. There are no runner up prizes.
3. Open to UK residents aged 18 and over, excluding all bloggers involved with running the giveaway
4. Closing date for entries is midnight on 23.05.2022
5. The same Rafflecopter widget appears on all the blogs involved, but you only need to enter on one blog
6. Entrants must log in to the Rafflecopter widget, and complete one or more of the tasks – each completed task earns one entry in the prize draw
7. Tweeting about the giveaway via the Rafflecopter widget will earn five bonus entries into the prize draw.
8. 1 winner will be chosen at random.
9. The winner will be informed by email within 7 days of the closing date and will need to respond within 28 days with their delivery address, or a replacement winner will be chosen.
10. The winners' names will be published in the Rafflecopter widget (unless the winner objects to this).
11. The prizes will be dispatched within 14 days of the winner confirming their details.
12. The promoter is Drew Media LTD t/a www.MakeMoneyWithoutAJob.com
13. By participating in this prize draw, entrants confirm they have read, understood and agree to be bound by these terms and conditions
Enter now
Simply complete any or all of the Rafflecopter entry widget options below to be entered. You can also tweet about the giveaway daily to earn bonus entries.
a Rafflecopter giveaway